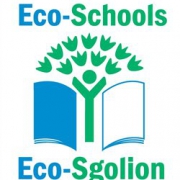 Click

here

to find out more about Eco-Schools
Congratuations to the Eco Committe – here is an extract from the letter from 'Keep Wales Tidy' about the award.
Dear Golftyn Eco-Committee,
I am delighted to inform you that your application for your Eco-Schools Green Flag award was successful. 
Many thanks for the huge effort that you have all made to get the information over to me so that I can virtually assess your school. I have absolutely loved watching the videos from Callum, Freya and Kian, you all spoke incredibly well and your passion for the environment and being an eco-member is very clear. You are obviously dong an excellent job in developing Eco-Schools within Golftyn Primary.
It was great to hear about the improvements that you have made within school and how sometimes a relatively small change can have a really big impact. Setting up plastic milk bottle recycling and food waste is a great example of this as you have managed to massively reduce the waste that you send to landfill. You have also significantly reduced the paper you use, which is a great achievement and one that you can keep building on. Maybe the next step in this area would be to see if the paper that you buy into school is recycled and if not, perhaps you could swap to one that is (there is very little difference in price these days), then you would be creating a true 'circle' with your paper use!
I was so impressed when I looked at your website to see how you have clearly put all your targets on there and kept it up to date; it is such a great way to share with the wider community and really positive if you can keep it up to date and relevant. I may signpost some other schools to your site for inspiration.
You have set up a really solid foundation with the Eco-Schools process and have effectively planned targets and measured your impact along the way. Please keep this up as it is exactly what we look for and will be fantastic to show your overall impact over the years that you are involved in the programme.
The award has been given with out recommendations, which is rare for me to do. You have everything running effectively so keep up the excellent work and keep progressing with your ideas and targets. My only suggestion is that you might find it useful to add an evaluation column to the end of your action plan so you can record at the end of the year how you have got on and the impact made so it is all in 1 place. This makes it easier to reflect back in future years.
The Green Flag award is a fantastic achievement. The school, staff and pupils should feel proud of their hard work and commitment. This is a great opportunity to celebrate success, as well as a chance to publicise your award within your local community. You may like to hold a flag raising ceremony and invite local media and dignitaries or perhaps issue a press release to your local press? You can download a press template from our website to help you – don't forget to attach some photographs too. Social media is a fun and easy way of promoting your school. If you use twitter then why not tweet about your Green Flag? Send your pictures to @EcoSchoolsWales and @Keep_Wales_Tidy and we'll make sure to retweet your achievements to over 12,500 people! Perhaps you have some celebrity past-pupils or local AM's that you could tweet for support? It's a great way of spreading your good news.
Uwch Swyddog Dwyrain
Senior Officer East

Cadwch Gymru'n Daclus | Keep Wales Tidy
Golftyn CP Eco-School Action plan 2021 – 2022
Target 1

Target – To reduce litter around the school grounds. 

Action – Raise awareness of the impact of dropping litter. Encourage use of bins. Highlight recycling.

Responsibility – Nursery class

Timescale – ongoing

Measurability – Monitor the amount of rubbish collected on a weekly basis and create data to highlight areas prone to litter.

Target 2

Target – Reduce the amount of paper and plastic being wasted.

Action – Reduce, Reuse and Recycle!
Reduce – the amount of paper being used by printing less

Reuse – using the back of paper wherever possible. Scrap paper used in creative areas.

Recycle – use of paper and plastic recycling bins to reduce the amount going to landfill.

Responsbility – All staff and pupils – Eco to monitor waste

Expenditure – purchase of new plastic recycling bins. Less expenditure on paper!

Timescale – ongoing

Measurability – Compare how much paper is being ordered and used. Record the amount of paper recycling weekly/fortnightly.

Target 2

Target 3

Target – To increase the Biodiversity within our school grounds and surrounding area.

Action – Creation of new hedgerows, planting of new trees and areas of wildflower meadows.

Responsbility – Eco-committee, Year 5, Year 6, Forest School

Timescale – ongoing

Measurability – Biodiversity and habitat survey completed at the start of the year. Further monitoring at the end of the year and ongoing due to the time needed for plants to establish.

Thanks – Our thanks to The Tree Council and Seedball for their donations to this cause.

Target 4

Target – To reduce energy use in school and share energy saving advice with the wider community.

Action – Ensure lights/ projectors are off when rooms are empty. Investigate the option of sensor lighting.

Create energy saving information posters/presentations. Complete a Home Energy Audit.

Responsbility – Eco committee and Year 4, whole school and community involvement.

Expenditure – Cost of sensor lighting – compare to savings made through reduction of electric bill.

Timescale – ongoing

Measurability – Compare the electricity use at the beginning and end of the year. Calculate the potential savings through changes made.

Target 4
How we are doing so far:
We are currently recycling on average 288 milk bottles a week which is over 11,000 per school year.
By using Schoop to send out newsletters we are saving at least one ream (500 sheets) per newsletter
Seesaw – the use of seesaw again has dramatically reduced the amount of paper we are now using
The installation of hand dryers in the children's toilets has reduced the use of paper towels. All paper towels are now made from recycled paper.
We have been successful in our applications for seeds, orchard trees and hedgerows. The trees and hedgerows will be planted in early March.