Mrs B Conlin
Nursery Teacher - A Group
Golftyn CP School
Miss J McPherson
Nursery Teacher - B Group
Golftyn CP School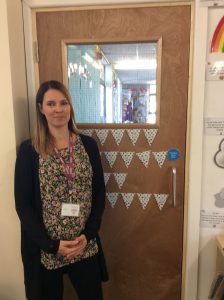 Miss Hall
Teaching Assistant
Golftyn CP School
Nursery session times: 
A Group   
Monday to Friday – 9.00am – 11.30am
B Group 
Monday to Friday – 12.30pm – 3pm
Learning through the foundation phase:
Our children will be given the opportunity to explore the world around them and understand how things work. We encourage this learning by allowing the children to take part in practical activities relevant to their developmental stage. They will be challenged through practical activities and develop their thinking with open-ended questions.
The Foundation Phase has 7 areas of learning which are delivered through practical activities and active learning experiences both indoors and outdoors. The areas of learning are:
personal and social development, well-being and cultural diversity

language, literacy and communication skills

mathematical development

Welsh language development

knowledge and understanding of the world

physical development

creative development.
Our aim is to make learning fun
Our Topics Throughout The Year:
Marvellous Me:
Focusing on getting to know each other and our new environment
Celebrations and Festivals: 
We celebrate events throughout the year, Diwali (A Hindu Festival), Christmas, Chinese New Year and many, many others
Fabulous Food:
We will be looking at some amazing different food from all around the world!
Once Upon a Time:
We look at our favourite stories
Minibeasts:
The Perfect project for Spring and Summer, with lots of scope for play and investigation in outside spaces. Looking at minibeasts provides opportunities to learn about how we care for other creatures and for our environment, as well as plenty of counting and sequencing activities
Under the sea:
Exploring all things sea related – creatures, pirates and much much more
–
Snack:
Outdoor Clothing:
As I'm sure you are aware we try to take the children outdoors as much as possible so if you could ensure they have the correct clothing to suit the weather such as coats, wellies and so on this would be great. Oh and don't forget to label!